Our Featured Performer for September is: The Frank Petrilli Trio!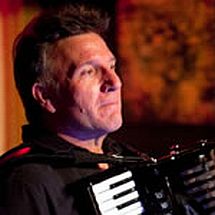 Frank Petrilli will come all the way from his home in Los Angeles to perform for us this September. Frank started to play the accordion at age 7 and by 16 he was performing professionally. In 2006, Frank began intensive study with the great jazz accordionist Frank Marocco. They soon developed a close friendship and Frank Petrilli became Frank Marocco's protégé. This association ended far too soon at Frank Marocco's untimely death in March of 2012.
In May of that same year, Frank had the distinction of being invited to play in the stead of the late Frank Marocco, who was originally scheduled as the featured performer at the Accofestival 2012 accordion competition in Kiev. Frank was also on the panel of judges for the jazz portion of the competition. Immediately following, he performed at the Frank Marocco Memorial Concert held in Castelfidardo, Italy. If you are a fan of the TV series Mad Men you may have caught Frank in a cameo appearance as a strolling accordionist in October 2011.

On his debut CD Totally Frank you will definitely hear the influence of Frank Marocco, but Frank Petrilli plays his own style that includes more focus on Latin grooves. Pat Sentator, booking agent and artistic director of the Vibrato Jazz Club in Los Angeles had this to say about Frank: "Like his mentor, Petrilli gives new life to the accordion with impeccable phrasing and a smooth, fluid style. "

Join us for the musical stylings of Frank Petrilli and the members of his trio.

Our programs are always open to the public!