Featuring Father and Son Duo: Steve and Michael Trucco!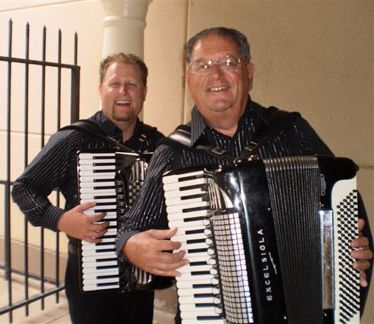 Steve
and
Michael Trucco
, from Stockton, CA, in the heart of the Central Valley, have been playing together for over twenty years.
Steve Trucco (pictured on the right) began taking accordion lessons at the age of ten. After six years of training and countless hours of practice, Steve began his professional career with a small, four-piece group. Today, over 60 years later, Steve still has the same four-piece group.
The other half of the duo, Steve's son Michael, has been playing the accordion for twenty-six years. Beginning lessons at the age of 9, he soon joined his dad's group by the time he was 14 as well as playing out on his own.
Steve and Michael play mostly Italian waltzes and polkas but also play music from the forties and fifties with Michael adding the vocals. Their unique style of playing duets is finely tuned - even though they are two separate accordionists, when they play together, they seem to meld into one. Maybe being father and son has something to do with it?
For more information about the Truccos and to find some clever accordion related merchandise be sure to check out their website:
Accordions Rock!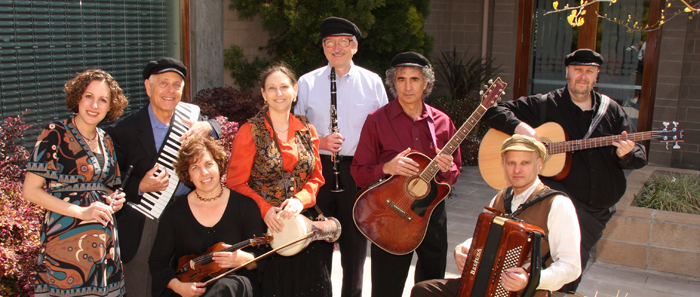 The
Klezmakers
are based in the San Francisco bay area and their repertoire encompasses Eastern European dances, Yiddish theater tunes, and traditional Israeli folk songs. Their sound is full and rich: a melodic ensemble of clarinet, violin, flute/piccolo, and accordion – backed by a solid rhythm section of guitar, keyboard, bass/cello, and drums. And their vocalist packs quite a punch! Together, they create a joyous and heartfelt sound that echoes the Old World, while still making today's audiences get up and dance. Please visit the
Klezmaker's website
for more information on the group and their members.
Please note
that we now meet at the
Chetcuti Community Room
in Millbrae. Please see the
Directions
page for directions to the new location.
Our programs are always open to the public!