This October, we are featuring the

Aurora Mandolin Ensemble!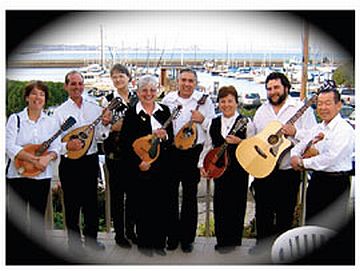 The Aurora Mandolin Ensemble (AME) is a subset of performers from the larger Aurora Mandolin Orchestra, making it possible for the Aurora Mandolins to perform for venues ranging from the concert hall and outdoor festivals, to restaurants, clubs and private parties.

The Aurora Mandolins are directed by Jo Pellegrini, and the Orchestra is the largest of its kind in the San Francisco Bay Area, consisting of up to thirty professional and amateur musicians (mandolin, mandola, mandocello, guitar, string bass, accordion, flute and percussion) from around the Bay Area. What makes the Aurora Mandolins unique is their varied repertoire including traditional and semi-classical Italian, Spanish, Russian, specialty ethnic and contemporary orchestral compositions. They have given public performances to thousands of music lovers and are especially proud to have played Davies Hall at the San Francisco Symphony's opening night gala in 1984. The Aurora Mandolins have also performed at the Academy of Sciences at Golden Gate Park, Santa Clara University, and is a regular at the annual San Francisco Mandolin Festival.