Our featured performer is Frank Petrilli with guitarist John Chiodini!

Frank Petrilli and John Chiodini will be here all the way from Los Angeles to perform for us this month.

Frank started to play the accordion at age 7 and by 16 he was performing professionally. In 2006, Frank began intensive study with the great jazz accordionist Frank Marocco. They soon developed a close friendship and Frank Petrilli became Frank Marocco's protégé. This association ended far too soon at Frank Marocco's untimely death in March of 2012. In May, Frank had the distinction of being invited to play in the stead of the late Frank Marocco who was originally scheduled as the featured performer at the Accofestival 2012 accordion competition in Kiev. Frank was also on the panel of judges for the jazz portion of the competition. Immediately following, he performed at the Frank Marocco Memorial Concert held in Castelfidardo, Italy. On his recently released debut CD Totally Frank you will definitely hear the influence of Frank Marocco, but Frank plays his own style that includes more focus on Latin grooves.
Guitarist and composer John Chiodini began his performing career in clubs, recording studios and theaters throughout New England in the 1960's and 1970's. As a member of the Boston Pops Orchestra under Arthur Fiedler, John made numerous appearances in concerts, on recordings and on television.
In the early 1980's, he relocated to Los Angeles, touring, writing, and recording with Peggy Lee. His MCA recording entitled Weightless" was critically acclaimed. He has toured and recorded with such artists as Natalie Cole, Buddy DeFranco, Tony Bennett, Michael Bolton, Celine Dion, Shirley Horn, Barry Manilow, Barbra Streisand and Michael Buble - just to name a few!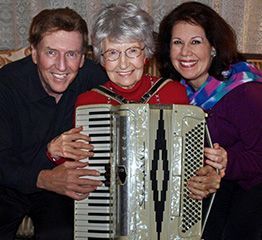 This month we also have a special treat - Val Floren Brewer and her son, Jan and daughter-in-law Carole will be here to perform and share stories of growing up with well known big brother, Myron Floren and his days on the Lawrence Welk show. Jan is a percussionist and Carole sings and plays the piano - they are truly a wonderful and entertaining family act!

Come join us for these outstanding performers - you'll be glad you did! <!hr>

<!/div> <!p><!br>