Our featured performer for September is Alicia Baker!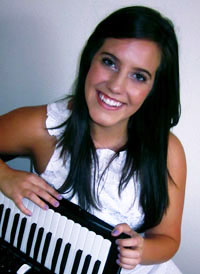 Alicia Baker is a 22 year old, self-professed music fanatic from Milwaukie, Oregon. She has been playing the accordion since the age of 6, as well as studying piano and voice. Recently graduated from Oregon State University, she holds a triple degree in Music Education, Piano Performance, and Vocal Performance.
Alicia has won several International competitions, including the prestigious Happy Hans award at the Kimberley International Old-Time Accordion Championships in 2007, 2010, 2011, and 2012. In addition, she represented the United States at the 2009 Roland International V-Accordion Competition in Rome. This turned out to a relationship hat continues to provide opportunities to share her love for the instrument as a Roland product specialist. In 2011, she performed Nikolai Chaikin's Accordion Concerto in B-flat Major with the Corvalis Symphony.
Alicia strives to play all genres of music well, and her favorite styles include french musettes, jazz, polkas, opera, pop, and techno.