Our featured performer for July is Steve Albini!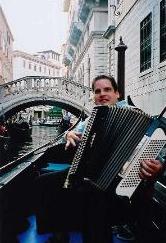 For over two decades Steve Albini has been enchanting audiences throughout the United States and Italy with his blend of musical virtuosity, artistic passion, and charismatic presence. Through his performances of traditional and modern Italian music as well as American jazz and popular standards, Steve has become a true international artist.
Steve's musical career began winning numerous instrumental and vocal competitions. He has appeared on stage with popular Italian singer Frankie Fanelli and performed for many well-known personalities such as Al Martino, Jose Feliciano, Senator Diane Feinstein and former Secretary of State Alexander Haig.
An acclaimed singer and musician (MIDI/acoustic accordion and guitar), Steve performs Italian music infused with world and Jazz rhythms. As a studio musician, Steve has collaborated with many other musicians in various styles and genres and is often called upon by artists, composers, and producers to add his touch to their projects.

Our programs are always open to the public!